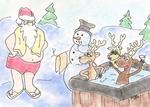 Just sold another package of Christmas Themed Cards - if you haven't found your special one yet, please take a moment to browse mine. You can personalize the insides to fit your family's needs and write your expressions for the season.

For a limited time (10/24/14 - 11/7/14) put in code "FVEHKA" at checkout to receive a discount as my thank you for your continued support. This applies to all my work - not just cards!

Merry Christmas and Happy Holidays to all!